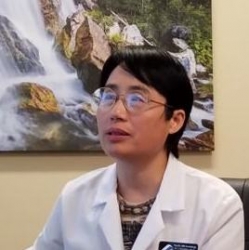 Latest posts by Dr. Li-Korotky
(see all)
Introduction
You may not be aware of it…but when you choose a hearing provider you are also choosing a business model. One model works off the proposition that profits alone are the bottom line for generating future profitability. This model is exemplified by "Big Box" stores such as Costco and a legion of minimally trained hearing aid dispensers. The competing business model proposes that customer satisfaction drives customer loyalty…and customer loyalty drives profitability and growth. This business model is typified by audiologists trained in an end-to-end process of patient-centered hearing care. The following paragraphs will show that business model implementations are strongly related to the education requirements necessary to lawfully provide various audiological services. Well credentialed audiologists can pursue a full course of professional services…but less credentialed hearing aid dispensers are legally bound to a limited set of services focusing on the sale of hearing aids East Inflatables.
Audiologists
Audiologists must earn a Doctor of Audiology (AuD) degree. This requires 4 years of undergraduate study in Communication Sciences (speech and hearing) and an additional 4 years of specialized academic work, including high-level training in the prevention, identification, assessment, and treatment of hearing disorders. Their extensive academic credentials, professional certification, and licensure, allow audiologists to provide a full range of patient-centered care, including a thorough patient assessment, comprehensive diagnostic tests, treatment options, and post-fitting counseling. Profit is important to independent audiologists but it doesn't generally dictate the patient process. Many of the diagnostic and counseling efforts that define the standard of patient-centered care offer low-profit margins compared to hearing aid sales…but these are critical elements of comprehensive hearing care. Take away any of the links in the patient-centered chain and you also disrupt the process of end-to-end care.
Hearing Aid Dispensers
By contrast, hearing aid dispensers, (AKA hearing aid specialists), can recommend, select, or adapt hearing aids and may alter, adjust or reconstruct hearing aid specifications for functionality, such as taking ear impressions for proper fit. Hearing aid dispensers can sell hearing aids in many states if they have a high school diploma or GED Certificate, pass a license exam, complete a brief apprenticeship with a licensed hearing aid specialist, and earn continuing education credits (usually from correspondence courses). The reduced requirements for hearing aid dispensers has led to a proliferation of clinics staffed by individuals with superficial training whose primary lawful focus is hearing aid sales…not audiological services.
ENT Physicians
An increasing number of Ear Nose and Throat (ENT) physicians are using audiology as a supplementary service to boost their bottom line profits. This is accomplished by hiring audiologists and/or dispensers to administer basic audiological exams, often with dated equipment, to support their surgical requirements. Since ENT physicians focus on surgical solutions, you shouldn't expect broad audiological support at an ENT clinic.
Corporate Hearing Centers
The market for treating hearing disorders is expanding. In response…the number of corporate hearing centers is also increasing. Why is this important? Because corporate hearing centers (many owned by hearing aid manufacturers) are motivated by bottom-line profits, and these profits are achieved through hearing aid sales…not diagnostic or rehabilitative services. Large corporations are purchasing independent practices across the country, often stripping them of important diagnostic capabilities, and staffing their new hearing centers with non-audiology staff, including hearing aid dispensers.
"Big Box" Stores
Using the power of their marketing wealth, corporate retail giants like Costco are repositioning hearing care as a commodity based solution. These stores are typically staffed by hearing aid dispensers, and their business model is dominated by profit concerns...so don't expect a full range of audiological services at any of these Big Box giants.
The Bottom Line
Hearing aid dispensers and audiologists are both licensed to fit and program hearing aids…but that is where the similarities end. There's a vast difference in education and training requirements between Doctors of Audiology and hearing aid specialists. This training edge allows audiologists to pursue a rigorous process of professional diagnosis, treatment (including hearing aid fitting, programming and verification), and rehabilitation. In contrast, most hearing aid dispensers work for large corporations such as Costco, and must, by law, concentrate their efforts on a narrow range of services, including hearing aid sales, fitting, and programing. It is important to understand that corporations are motivated to control the distribution of hearing care, and profit margins dictate their treatment process. They are not in the business of marketing comprehensive audiological services to consumers or exclusively using audiologists as their providers. They are "bottom liners" so they are in the business of selling hearing aids.
Choose Your Business Model
There's an ongoing struggle between opposing business philosophies to define the scope and practice of hearing care. Most Audiologists believe hearing care should be patient-centered and managed by Doctors of Audiology. This business model emphasizes an end-to-end process of professional services, including consultation and diagnosis, hearing aid fitting and programming, validation of hearing aid functions with advanced technology such as Speech Mapping, and post-fitting counseling and rehabilitation. The opposing business model is much more focused on high profit margin sales, and is represented by hearing aid dispensers, hearing aid manufacturers, and retail giants such as Costco. Under this business model, hearing care is managed primarily by non-audiologists and hearing aid sales defines their bottom line …often at the expense of professional audiological services. Ear Nose and Throat (ENT) practices are also in the mix, as they increasingly train technicians to perform basic audiometric and vestibular testing under minimal supervision to support their primary focus of surgery. So…if you need hearing care…choose your business model!
About the Author
Dr. Ha-Sheng Li-Korotky is the President and co-founder of Pacific Northwest Audiology (www.pnwaudiology.com), based in Bend, Oregon. The Doctor is a nationally acclaimed clinician and research scientist, with AuD, PhD, and MD credentials and more than 100 scientific publications.