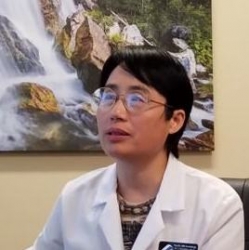 Latest posts by Dr. Li-Korotky
(see all)
Virtual meetings have become the norm for many of us in 2020, and our family meetings might not be an exception this December. Whereas many of us might have traveled long distances in order to be in the same place for a family reunion, this year may find families shifting our gatherings to computer screens. 
Although it is certainly not the same as the gatherings of the past, you might be surprised how much is preserved in a virtual format. You can catch up with loved ones, eat together, and play board games much like you might have in the past, but this kind of virtual celebration does require some planning. Let's consider some of the ways that you can set yourself up for a virtual family reunion that includes everyone and makes it clear how much you value each member of the family. 
Pre-Holiday Meetings
If you are planning a virtual meeting to celebrate a holiday, then it is smart to try out the platform prior to the family reunion. Although you might have used the videoconference platform in the past, that might not be the case for everyone in your family, and planning a "practice" session can be a good way to make everyone comfortable when the day comes. 
Take an average evening to meet one-on-one with a family member that is new to the virtual meeting. This low-key introduction is a good way to allow mistakes without putting the large-group gathering on pause. You can even help your loved one find a comfortable place for the camera, set up additional sound, headphones, or a microphone if necessary, and explore some of the features of the platform. Particularly 
If you are going to try something more challenging like a virtual board game, getting comfortable with the platform will go a long way. 
Before the Family Reunion 
In the days leading up to your virtual gathering, get in touch with the members to determine how it will go. Will you be meeting for just an hour or longer? Will each of you be enjoying a holiday meal at the same time? Will you simply set up the video call and then go about holiday activities? Some people have come to enjoy this format without focused attention on the screen. You can go about your business cooking, cleaning, decorating, or doing crafts while the video call is underway. This format can make it feel more like hanging out casually than the devoted attention required by a conference call. If you want to pursue this approach, make it clear to everyone before the meeting begins so that everyone is on the same page. 
Celebrate Together
When it is time for your virtual gathering, there are a few things you can do to make it easier on all the members of the family, particularly those with hearing loss. Try to find a way to take turns speaking. This feature of the videoconference platform is one of the most frustrating, because cross-talk mutes out one voice or another. 
Whereas a group conversation allows multiple people to chime in at once, video calls tend to struggle in this regard. If you are not currently speaking, it is best to turn your microphone to "mute." 
When you want to join in, it is a good idea to gesture in some way so that you can take the floor. This simple strategy can help those with hearing loss who might struggle to keep up with the rapidly changing volumes. 
Illuminating your face clearly helps with reading expressions and mouths, so be sure to encourage your family members to do the same. Some services offer real-time captioning, and that feature can be an asset for family members who are hard of hearing. 
With these considerations in mind, you should be able to accommodate a wider range of needs during your call, but the only durable solution for hearing loss is to pursue treatment. 
These accommodation strategies can take you in the direction of a better virtual family reunion, but hearing aids will continue to be a benefit in the years to come when we are once again able to assemble together indoors!
Treating Hearing Loss
If you've experienced changes in your hearing, we're here to help! Ensuring that you hear at your best is the most important element of staying in touch and connected to loved ones. Contact us today to schedule an appointment.