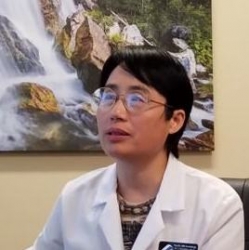 Latest posts by Dr. Li-Korotky
(see all)
Pacific Northwest Audiology had a another successful "Dine and Demo" luncheon at Gregg's Grill in Bend Oregon on October 26, co-hosted by Unitron. 
So, what is a Dine and Demo Luncheon? Simply put, it's an opportunity for guests to sample the latest hearing enhancement technology in a real world environment over lunch. 
This event was NOT designed to meet a sales quota. Guests learned important facts about hearing loss while sampling the advantages of new hearing technology…hearing aids that push the limits of hearing!
Dine and Demo luncheons are limited to only 14 invited guests. The event was designed to be relatively small, informative, and friendly, a learning environment that allowed each guest to evaluate new hearing solutions with no outside stresses or obligations. 
For those selected to participate in the event we tested their hearing (or used their latest hearing test of record) and then fitted them with personally customized Flex:Trial hearing aids, diagnostic instruments that can be programed to different technology levels to suit the needs of individual patients. Flex:Trial hearing aids are particularly well suited for increased sound clarity in otherwise noisy environments like a busy restaurant, so our guests were able to verify the technology claims…which they did!
The picture (below) shows Dr. Li (Pacific Northwest Audiology, bottom panels) and Felipe Ovando (Unitron, top panel) discussing new technology to alleviate hearing loss while enhancing hearing and communication. The middle two panels show Dr. Odgear and Grace Gardner (both from Pacific Northwest Audiology) answering general questions from our guests. Grace is completing her externship with Pacific Northwest Audiology prior to becoming a full-fledged Doctor of Audiology.
We were very pleased with the outcome of this event…the food was high quality, everyone had their questions answered, and all of us had a great time!
There will be one more Dine and Demo event this year: November 30. Call now if you want a seat… 541-678-5698-5698.