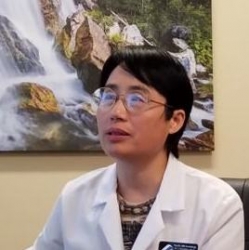 Latest posts by Dr. Li-Korotky
(see all)
Pacific Northwest Audiology had a very successful "Dine and Demo" luncheon at Gregg's Grill in Bend Oregon on October 11, co-hosted by Widex High Definition Hearing. 
So, what is a Dine and Demo Luncheon? Simply put, it's an opportunity for guests to sample the latest hearing enhancement technology in a real world environment over lunch. 
But we're not talking about yesterday's hearing tech. Guests sampled hearing aids that push the limits of hearing!
Dine and Demo luncheons are limited to only 14 guests. The event was designed to be relatively small, informative, and friendly, a learning environment that allows each guest to evaluate new hearing solutions with no outside stresses or obligations. 
For those selected for the event we tested their hearing (or used their latest hearing test of record) and then fitted them with state-of-art hearing aids so they could experience ground-breaking sound clarity in the real world.
The picture (below) shows Dr. Li (Pacific Northwest Audiology) and Dr. Antonio (Widex) discussing new technology approaches to hearing loss. The food was high quality, everyone learned what they came for, and all of us had a great time!
We will have two more Dine and Demo events this year: October 26 and November 30. Call to confirm your place.  541-678-5698.