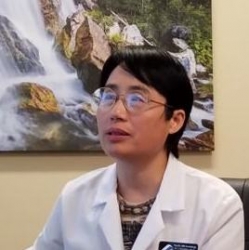 Latest posts by Dr. Li-Korotky
(see all)
As the weather gets colder and people start gathering in their homes to stream the latest TV show, don't forget that there is a lot to do outside the house this holiday season. So, whether you're looking for something to do with the family, or looking for the perfect musical to ring in the holiday season, you're bound to find something for you in Bend this Christmas!
The ever-popular Santaland has returned! If you missed St. Nick making his spectacular entrance via helicopter at the Les Schwab Amphitheatre last month, you can still catch him until just before Christmas day. You and your family can get that all-important Santa selfie from Friday until Sunday, from 11am to 5pm until Dec 23rd.
While you're at Santa land, don't miss the Tree of Joy. A collaboration between the Rotary Clubs of Central Oregon and the Salvation Army, it was built to make sure that every child in central Oregon gets to have a happy Christmas. The tree of joy provides suggestions on how you can support families in need over the holiday season.
The Old Mill District will also have a very special first Friday gallery walk on Dec. 7th, as the entire district is decorated with Christmas lights. If you've never been to one of these events before, there are a wide assortment of local artists, many of which specialize in glass blowing. You are invited to browse the many art galleries, and there will always be something to drink, eat and listen to close by!
If you're looking for a true Bend tradition, don't miss Tumalo Creek Kayak & Canoe's annual Holiday Lights Paddle on Dec 14! Traditionally held on the opening night of the store's holiday sale, paddlers decorate their canoes and kayaks in festive garb and paddle around the Deschutes River in the Old Mill District. The previous year saw over 1000 kayaks, canoes and paddle boards taking to the water. This event is unique only to Bend, and has to be seen to be believed! The boats will be going through the Old Mill District between 4:15 and 6 p.m., so make sure you have your camera ready, and a good spot reserved!
If you're looking for music this holiday season, we've got you covered. The Old Mill District will be the venue for carol singing from local choir singers, along the river and around the shops and restaurants. The best day to go is Dec 15th, where five different choirs will be providing glorious carols from 1.30pm to 5.30pm. It is sure to get you into the festive spirit!
You'll also find great music at the Tower Theatre this month. Led by director James Knox, The Holiday Magic show 2018 showcases traditional music from the Cascade Chorale and the Bend children's choir. The highlight is sure to be on the evening of Saturday Dec 8th, where the Bend Camerata will be taking to the stage. You're bound to love their beautiful renditions of classic choral songs.
Dec 3rd will see an exclusive performance by Jim Brickman. The pianist has worked with a star-studded list of names, including Martina McBride, Carly Simon, Michael Bolton, Kenny Loggins and more. Get into the Christmas spirit with this holiday concert spectacular!
Finally, a more family-friendly alternative is the Swinging Tower Christmas Celebration on Dec 21st. The host Mollie Tennant ("Cats" and "Les Miz") will lead a group of local performers, who will be joined onstage by a 14-piece big band. The centerpiece of the night will be Bob Shaw singing Bing Crosby's "Mele Kalikimaka" alongside a host of hula dancers!
If you're looking for a break from the holiday theme, the Tower Theatre is also hosting a night of southern blues rock with the Devon Allman project, alongside special guest Duane Betts. Come and hear some soulful southern blues form the past, present and future. The group will also be performing some classic songs from the Allman Brothers Band including "Midnight Rider," "Dreams," and "Blue Sky," the band perform on Dec 11th at 7.30pm.
There's lots to see and do in Bend this holiday season. So, get off your sofa, put on your hat and gloves and welcome the winter in style!
 For a comprehensive hearing test, contact Pacific Northwest Audiology
Don't let your untreated hearing loss cause you to miss out on special holiday times with your friends and family. With so many great things to see and hear this season, it's the perfect time to take steps to treat your hearing loss. Make your appointment with Pacific Northwest Audiology for a complete hearing assessment today.