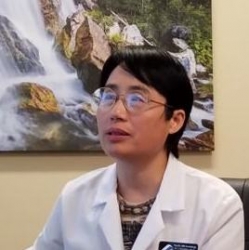 Latest posts by Dr. Li-Korotky
(see all)
Pacific Northwest Audiology was an exhibitor at the Central Oregon Builders Association Remodeling Design & Outdoor Living Show at the Athletic Club of Bend, Oregon on September 21-22. The show had hundreds of vendors and thousands of attendees…making this year's event a huge success.
The show provided a great opportunity for Dr. Li-Korotky to interact with and answer questions for hundreds of people about every conceivable aspect of hearing health…including hearing loss, tinnitus (ringing in the ears), Meniere's disease (balance disorder), hearing aids and assistive listening technology tropical inflatable water slide.
Our congratulations to Ron Robbel (left) the winner of our drawing for Bose QuietComfort 15 Acoustic Noise Cancelling headphones. The winning card was pulled out of a well mixed box late Sunday afternoon by our next door neighbor at the show, Brent Olsen, the President of Sales of VACUFLO, seen above, with Dr. Li-Korotky.
The photos show Dr. Li-Korotky (Audiologist) and Stephanie Roberts (Front Desk Manager) interacting with interested (and interesting) people.