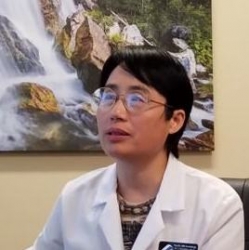 Latest posts by Dr. Li-Korotky
(see all)
We discarded old thinking and imagined new possibilities. Then we created a vision for tomorrow!
On September 14, Pacific Northwest shared that vision with a an enthusiastic group of more than 50 individuals at the Hampton Inn and Suites in Bend Oregon.
Agenda items included information on how to:
Stream audio from iOS, Android, other Devices
Connect directly to an iPhone, iPad, iPod Touch
Control hearing aid settings from a Smartphone
Communicate clearly in any environment
Manage Tinnitus
Use hearing apps to enrich hearing
Of course, we also had a lunch buffet, great product offers, and quite a few door prizes!
The event concluded with a Q & A for the presenters…Dr. Li and Dr. Odgear from Pacific Northwest Audiology, and Dr. Hecker from Widex.
This was heralded as a very informative and inclusive event by the attendees and we are now planning our Christmas Party. If you are interested in attending a festive party, call and register now at 541-678-5698. We will have great food, Christmas classics from Pandora, Bingo, and lots of prizes. But most important…we will have fun and fellowship!