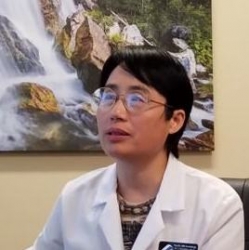 Latest posts by Dr. Li-Korotky
(see all)
Walls are mostly painted, ceilings will be added next week, and the building exterior is looking better every day. Weston Technology has a great plan for fulfilling our wired and wireless technology dreams, and cooperative weather is keeping us on course for a late March move-in date. When you consider that the Universe is more than 13.5 billion years old…a couple of months is like a very small fraction of a second!
We took our staff on a field trip to the building today, and we spent a lot of time discussing how to use the spaces in innovative new ways. We are thinking out of the box in every respect, to create the best patient journey while re-imagining the hearing care experience. We will spare no WOWs! 
In the figure above, panel 1 shows the building from the NNE, and Panel 2 shows the location of Pacific Northwest Audiology relative to High Lakes Health Center. Panel 3 shows the view from the entrance vestibule toward what will become our Innovation Technology Center (purple arrow in panel 6), panel 4 shows work on the building exterior, and panel 5 shows the view toward the Innovation Technology Center from the Reception area (green arrow in Panel 6).
Panel 7 shows the entire crew. From left to right, Dr. Li-Korotky (Chief Audiologist and co-owner), Josh Korotky (Vice President and co-owner), Jackie Carey (our Office Manager), Dr. Ryan O'Clair (Audiologist), Jenny Jochum (Audiologist Assistant), and Mindy Dimitri (Doctor of Audiology Fellow). We are looking to add another Audiologist, Audiologist Assistent, and Front Desk coordinator soon!
Things are happening fast, so check back for updates…we have a lot more to tell and show as time draws closer to our move-in date!