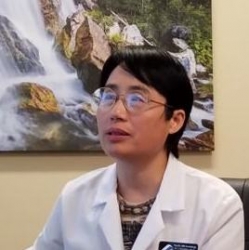 Latest posts by Dr. Li-Korotky
(see all)
It's January 25 and most of us have already broken our New Years Resolutions, so we can all relax and get on with our lives. Actually, Dr. Li and I are always striving to live better, serve others better, and have fun while we are at it…so we can enjoy friends and New Years without guilt!
Progress continues at a steady clip on the building; the sheet rock has created walls, electrical systems are in place, and we are still on target for a late March move-in date. But, wisdom from ages past dictates that "stuff happens when you least expect it"…so we are prepared to adapt and conquer.
In the figure above, panel 1 shows the building from the NNW, and Panel 2 shows the location of Pacific Northwest Audiology relative to High Lakes Health Center. Panel 3 shows a view down one of the hallways (blue arrow in figure 4), and Panel 5 shows the view down the other hallway (yellow arrow in figure 4). The bottom orange arrow in figure 4 shows the view toward the waiting area from what will be our Innovation Center (more later), and the top orange arrow in figure 4 shows the view toward the Innovation Center and Conference room.
Things are happening fast, so check back for updates…we have a lot more to tell and show as time draws closer to our move-in date!