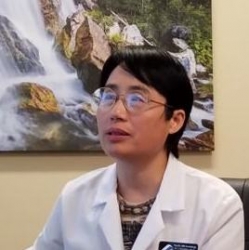 Latest posts by Dr. Li-Korotky
(see all)
Our white Christmas and white New Years are behind us and 2016 is well in the race to 2017. But as Robert Frost said "The woods are lovely, dark and deep,
But we have promises to keep, And miles to go before we sleep, And miles to go before we sleep."
Progress continues steadily on our new building; insulation is going into the walls in preparation for dry walls next week, and our IT partner, Weston Technology Solutions is coordinating with Taylor NW to ensure a good IT infrastructure. We are running a bit ahead of schedule, despite the occasional rain, snow, and ice…and it looks like we are on target for a late March move to the new building.
In the figure above, panel 1 shows the building from the NNE, and Panels 2 shows the location of Pacific Northwest Audiology relative to High Lakes Health Center. The arrow in panel 2 shows the orientation of the photo in panel 1. Panels 3 and 4 show views of the interior as denoted in panels 5 and 6 respectively.
Check back often. Walls will be up next week and things are happening fast. We will continue to update the building progress every week!